Billing
IO Cooperative uses Freshbooks to mange our billing. Each IO member has a freshbooks account. Your account should have a recurring invoice configured which will be sent to you each billing period. Do please pay the invoice when you get it since we'll need to use that money to pay the monthly bill with the datacenter.
You can access your freshbooks billing account here : https://my.freshbooks.com/
1. Click the link in your invoice email taking you to Freshbooks
2. Click the "Pay Now" button on the invoice.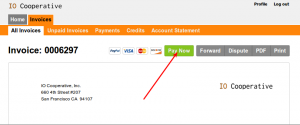 3. Click "Pay with Credit Card". To enable auto-billing you must pay with a credit card, not PayPal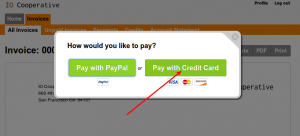 4. Fill out your billing information. In the "Future Payments" section click the "Charge the full amount ($65.00) to my credit card yearly." The amount ($65.00) and period (yearly) will differ depending on your services and billing cycle.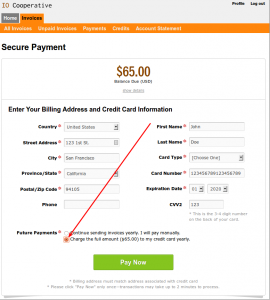 5. Your invoices will now be auto payed with your credit card.
Last updated: 2021-07-10 08:56:43 by ops